CERIecon - Project Duration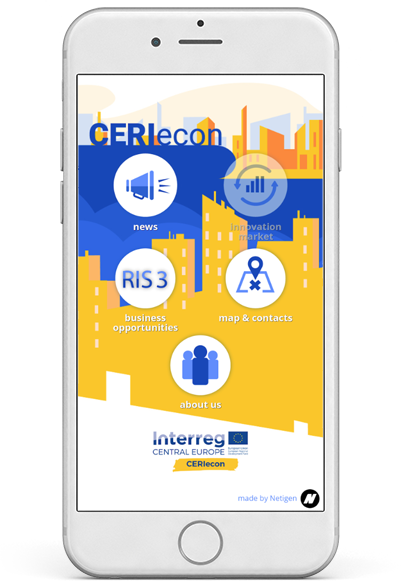 CERIecon RIS3 App
This is an official app for CERIecon project. CERIecon works towards changing the way entrepreneurs are inspired, trained and supported by developing and implementing new-type comprehensive regional innovation ecosystems (called Playparks) and a transnational innovation ecosystems' network to advance economic and social innovation in a majority of central European Member States. Learn more about the project: http://www.interreg-central.eu/
CERIecon Brunch Clubs in Numbers
i.e. SMART is an international initiative involving 12 partner organizations from 7 different regionsacross the Central Europe - Vienna (AT), Stuttgart (DE), Venetto region (IT), Modena (IT), Budapest (HU), Bratislava (SK) and Prague (CZ). Partnering organizations represent mostly a mix of educational organizations and political institutions. The main aim of the project is to implement a transnational management structure that will deliver a new transformative business approach to innovation and entrepreneurship in three different economic sectors: Creative Industries, Green Economy and ICT. The role of the partners (educational and political institutions) is to develop and implement this management structure into everyday reality, supporting the regional and transnational growth of SMEs.
1383
Target Group Indicator Value
Playpark Xchange
Playpark Xchange provides a virtual stock exchange system, supporting the growth of new and better business ideas. In order to achieve this goal, Playpark Xchange brings together entrepreneurs working on their business models and market investors eager to find ideas which can be successful in the real world. By simulating reality in this virtual competition, players are prone to a risk taking attitude which will lead to business model refinements validated by market data. In the end, entrepreneurs will have stronger business models and greater confidence in their business ideas. There is no real money involved.